"VERS MINDEGYKINEK VII.
Az elkerülések félreértése végett, az alábbi szösszenet tele van személyes véleménnyel!"
Kormi ezzel az üzenettel indít! Én meg ezt szeretem. Mármint a személyes véleményt! Ettől lesz élő, ettől lesz izgalmas egy lemez ismertető.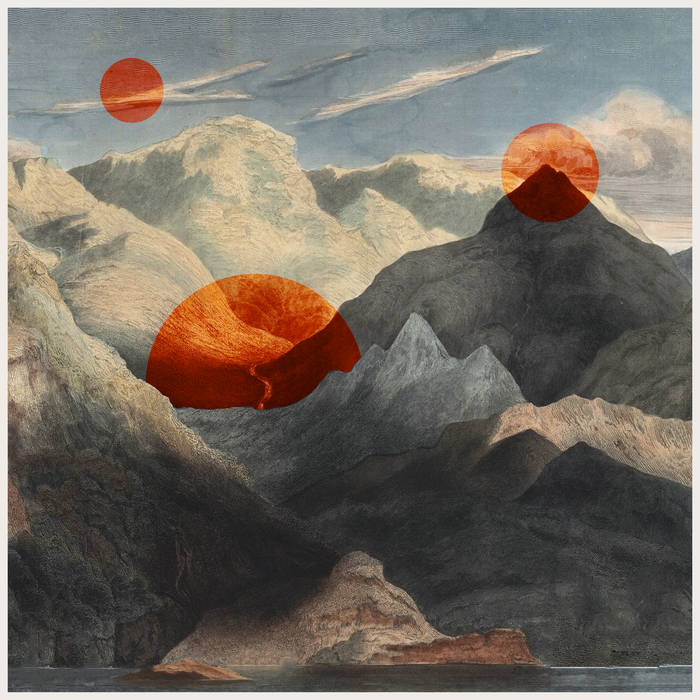 Hiába ne a borítója alapján ítéljünk meg akármit, én vizuális típus vagyok, az albumok sokszor (főként a számomra ismeretlen előadók esetében) a borítójuk vonz be.
Nos, ennél az albumnál pont nem így volt, de a Giant Sleep-et az ezt követő, idén januárban megjelent anyaguk, a Grounded To The Sky borítójának csábításának köszönhetően ismertem meg. Az album (első hallásra) nem ragadott meg, de a bandának adtam esélyt, meghallgattam korábbi munkájukat, így jutottam el a 2017-es Move a Mountain c. albumhoz, aminek borítójáról nem tudom miért, de Murakami Haruki "A kormányzó halála" c. könyve jut eszembe…
 Nos, ez az album elsőre beszippantott. Ez hónapokkal ezelőtt volt, tervben volt, hogy megmutatom Nektek, de nem jöttek hozzá a szavak. Mai nap hallgattam meg másodjára teljes egészében a lemezt és beugrott valami: több ponton is az érzés fogott el, főleg a lágyabb részeknél hogy olyan hangulat árad belőle, mint a Porcupine Tree, csak ennek az anyagnak hatalmasak a golyói. Senkit nem akarok megbántani, én is anno rengeteget hallgattam a Porcupine Tree-t, de egy idő után már nem ápolja a sajgó lelkedet, hanem jobban lehoz az életről szerintem a zenéjük.
De vissza a Gigászi Szunyókához: ha a hatalmas golyók kapcsán kétségeid vannak, akkor türelmesen hallgasd végig az első dalt a 12 monkey-t (a szövegekben még nem merültem el, nem tudom, van-e köze Terry Gilliam azonos című filmjéhez, vagy ennek alapjául szolgáló francia La Jetée-hez), majd jöjjön a második dal, a Freewill Myth.
 Na, ugye?! Assztakurvaéletbe. Fogd szorosan az orcád babám, különben le lesz tépve. Hát mi ez a riff? Ez a kockára torzított basszusgitár? A földbe döngölő dobok? Az a karcos ének? Hol voltál eddig? Aki néha ránéz az FB falamra, már találkozhatott ezzel a dallal, tettem már közzé, akkor is hasonlóan elkerekedett fülekkel. Én azóta erre a dalra töröm a krumplit a püréhez, habarom a levest, keverem a maltert, tekerem a cigit, pödröm a szempillám. Imádat. Miután magunkhoz tértünk, hogy jól meg lettünk csinálva, az lemez már sokkal finomabban bánik velünk, de ez nem jelenti azt, hogy kifújt volna az élmény! Bár bevallom, számomra ez volt az album csúcspontja.
 Érződik, ez az anyag valami nagy fájdalmat, csalódottságot, dühöt dolgoz fel. Az előző dal volt a harag netovábbja, a következő, Forever Under Ground már az elején megsimogat minket a káváinkon, cintányérjainkon, miközben panaszát hallgatjuk, bár még itt is kapunk az arcunkba öklöst.
"Már itt vagyunk Ausgang-nál" akarom mondani Aargau-nál. A The Last Exit Aargau ez egy igen kellemes blues-rock dal, olyan felemelő refrénnel mint: "Somebody kill me, somebody kill me right now" mintha egy még komorabb Circus Hungaricus-t hallgatnék és Hobonak elege lenne a folyamatos turnézásból. De ezt leszámítva a zene baromi üdítő az eddigiek után.
 Love your Damnation. Igen, megkapjuk a balladánkat is, de egyáltalán nem szájbarágós, nem kötelező szaga van és még hangulatváltást is tartogat nekünk, reménykedünk, de aztán rájövünk, hogy mégsem.
Itt jön számomra a lemez legfelejthetőbb dala, ami nem jelenti azt, hogy rossz, de a többi mellet eltörpül, ráadásul ugyanazt a blues rock hangulatot hozza vissza, amit már Aargu-ban hallottunk. Mindegy, egy ilyen dal mindig jól jön, a cím is ezt sugallja: ez maga a Failsafe Plan.
Jó oké, még egy blues rock dal, de ebből annyira árad a kései Deep Purple, hogy nem tudok belekötni, max annyit, hogy már csak egy orgonaszóló hiányzik bele, és az lenne a füst a víz felett.
De ne feledkezzünk el arról, hogy mi amúgy szomorúak és mérgesek vagyunk. Lehet épp Stella miatt. Az utolsó etapban kapunk mindent, amit eddig: balladát, akkordkitartós torzulást, nagy szavakat, finomkodást a dobon, gitárnyenyerészést, bármint megkapsz Stella, csak bontsd már le azt a kurva falat! Aztán hangunk elvész a hegyek ormai közt…
Lezárásként pedig kapunk egy zenedobozkát, ami szomorúan búcsúzik mindenkitől, aki eljött erre az utazásra, bízva benne, hogy a dallam visszacsalogat minket még hogy ismét átéljük ezt az élményt.
Második meghallgatás után is ugyanazzal a mondattal konstatáltam, mint az elsőnél: "Ez egy jó lemez, baszki". Felesleges fillerek nélküli, vérbeli prog(?)-blues-rock album. Ez a keverés az én fülemnek nagyon bejön, és ígérem a zenekarnak, az idei albumukat is még egyszer jobban odafigyelve meg fogom hallgatni. Te pedig, aki elolvastad idáig, köszönöm és ha tetszett, mindenképp hallgasd meg a "Move a Mountain"-t!