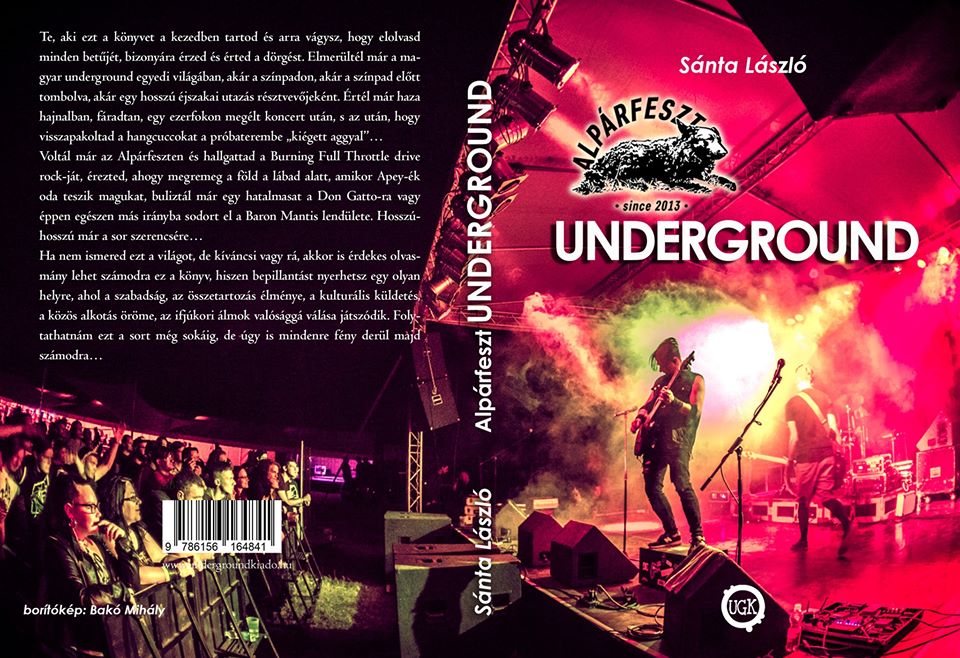 A hamarosan megjelenő Alpárfeszt UNDERGROUND című könyvel kapcsolatban kerestük meg a szerzőt, Sánta Lászlót.
Bár a Stoner Rock Blog Hungary-nak nem teljesen vág a profiljába a könyv minden szereplője, de szívesen támogat minden olyan zenei kezdeményezést, ami megmozgatja kicsit ezt a közeget.
Az előzményekről annyit érdemes tudni, hogy Tiszaalpár és környéke, egy kis aktív sziget hazánk kulturális kezdeményezői között. Sánta Zola, és Riverside Booking által fémjelzett minden évben megrendezésre kerülő Alpárfeszt, és az általa szervezett számtalan klub koncertnek köszönhetően született baráti társaságról, zenekedvelő közösségről szólhat ez a könyv. Ezeknek a történeteknek az összefoglalója, megörökítője Zola testvére, Sánta László.
De, hogy ne találgassunk a könyv tartalmáról, ezért kerestük meg pár kérdéssel a szerzőt.
Kedves Laci mi inspirált arra, hogy a környéken zajló zenei események meg legyenek örökítve az utókor számára?
Olyan értéknek tartom a hazai underground zenei világot, a könyvben is ,,papírra vetett" zenekarok történetét, illetve örökségét, amely nem veszhet a feledés homályába. Ne csak a mi személyesen megélt élményeinket tudjuk általa újra megélni, hanem olyan emberek is szívesen merüljenek bele ebbe a világba, akik esetleg már a jövő underground arcai lesznek, zenekarokat alakítanak, koncerteznek, ezáltal új lendülettel töltik meg ezt a szférát. De olyanoknak is ajánlom, akik egyszerűen csak jót akarnak mosolyogni a zenekarok nem mindennapi történetein.
Bár az igaz, hogy Zolának és a segítőinek hála van miről "sztorizgatni", de azért nem lehet kis feladat ezt egy könyvbe foglalni. Milyen körülmények segítették, vagy nehezítették meg a munkádat?
Kevés időm volt a munka mellett, viszont a tervek és a történetek bőségesek voltak. A legnagyobb segítő körülményt, maguk a zenekarok jelentették, illetve a fotósok, akiket a képek miatt ,,háborgattam".
­Mi lesz a könyv tematikája? A sztorik, a zenekarok, vagy az események fognak benne jelentősebb szerepet játszani?
Az Alpárfeszteken fellépő zenekarok mindegyike egy külön fejezet. A bandák és a CREW sztorijai a fő csapás.
Az előzetes borítón szerepel már négy zenekar, a Burning Full Throttle, Apey And The Pea, Don Gatto, és Baron Mantis. Ha nem titok megtudhatnánk többet a könyvben szereplőkről?
Horváth István ,,Pityesztől" Zahorán Csabáig, a KIES-től a Volume Feederig nagyon sokan megjelennek a könyvben. Véleményem szerint, aki szereti a magyar underground zenét, annak nagyon kedves olvasmány lesz ez a könyv, amelyben azért a metál zenekarok dominálnak.
Mikor jelenik meg a könyv?
Jelenleg a tördelői munka zajlik a kiadónál. Reméljük, hogy minél hamarabb a kezünkben foghatjuk!
Milyen formában lesz elérhető a könyv, illetve, majd hol kerül terjesztésre?
A kiadó hivatalos weboldalán, az undergroundbolt.hu-n megrendelhető lesz, továbbá az Alpárfeszt Underground könyv facebook profilon és az undergroundkonyv@gmail.com-on is igényelhető. Emellett reméljük, hogy minél több Alpárfeszttel kapcsolatos zenei rendezvényen is elérhető lesz az érdeklődők számára.
Köszönjük a beszélgetést.
AMEN!