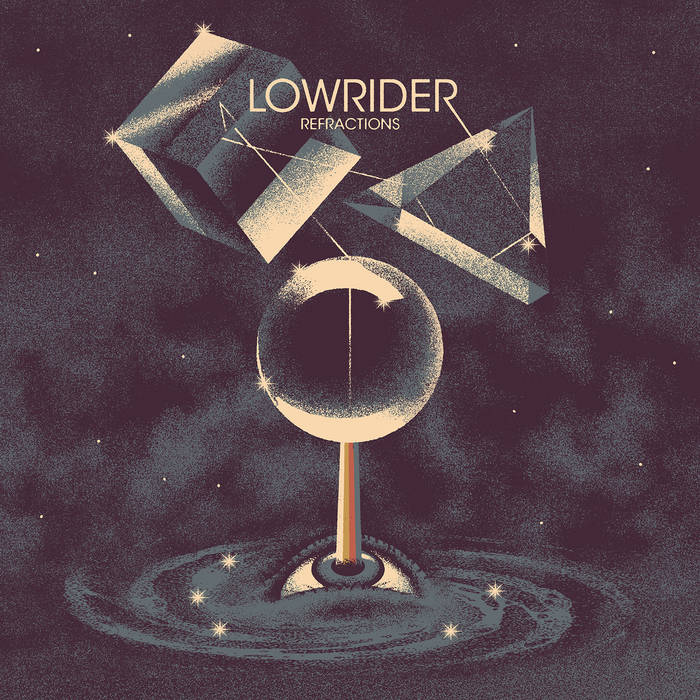 Kezdjük az elején. Kezdjük ott, hogy ki is áll a Blues Funeral Recordings név mögött. Ugyanis ő(k) adta ki az új Lowrider albumot a Refractions-t. Azért fontos ezt tisztázni, mivel Olyan nevek szerepelnek az istállóban, mint a Solace, Elder, Besvarjelsen, Domkraft, Howling Giant, Daxma és a Lowrider. Szóval az a Jadd Shickler áll mögötte, aki annó a Meteorcity-t alapította! (Nézzetek utána, jik jelentek meg ott! Tátva marad a szátok!), majd miután elege lett és eladta elindul a nagyvilágba, mint valami mesében a legkissebb fiú, hogy megvalósítsa önmagát. Ebből a nagy "önmegvalósításból" aztán megszületett a Magnetic Eye Records (itt se voltak kis nevek.). Ebből jött ki a Blues Funeral Recordings!
 Tehát a Lowrider annál a kiadónál jelenteti meg az új albumát, ahol elkezde 20 évvel ezelött! 20 éves lett az Ode To Io! Egy újabb korszakot nyitott az urópai stoner zenében! Ez tény, ezt senki nem vitatja! Lehet, hogy volt még egy két zenekar akkoriban, akik szinén amolyan stoner pionírok voltak, de a lemez a megjelenés pillanatában legendás lett!
 Az új lemez ugyanezt a vonalat viszi tovább és kész. Biztos sokan fogják azt mondani, hogy nem üt akkorát, mint az első. Azt azonban ne hagyjuk figyelmen kívül, hogy akkoriban nem nagyon rohangáltak a világban JÓ stoner zenekarok, tehát még jó, hogy egy ilyen erős atmoszférával és dalokkal rendelkező lemez szinte világított a zenei sötétben. Más részt pedig az azóta eltelt 20 év alatt nagy szerencsénkre változik minden. Az ő esetükben finomodtak a dalok, a vokál inkább háttérbe szorult és a hangszeres zene van kiemelve. Az album egyszerűen visz magával és ha vége újra be kell rakni, mert .... mert be kell rakni!
Blues Funeral Recording Face, Lowrider face, bandcamp. Sajnos megosztható dalt nem kaptam. AMEN!