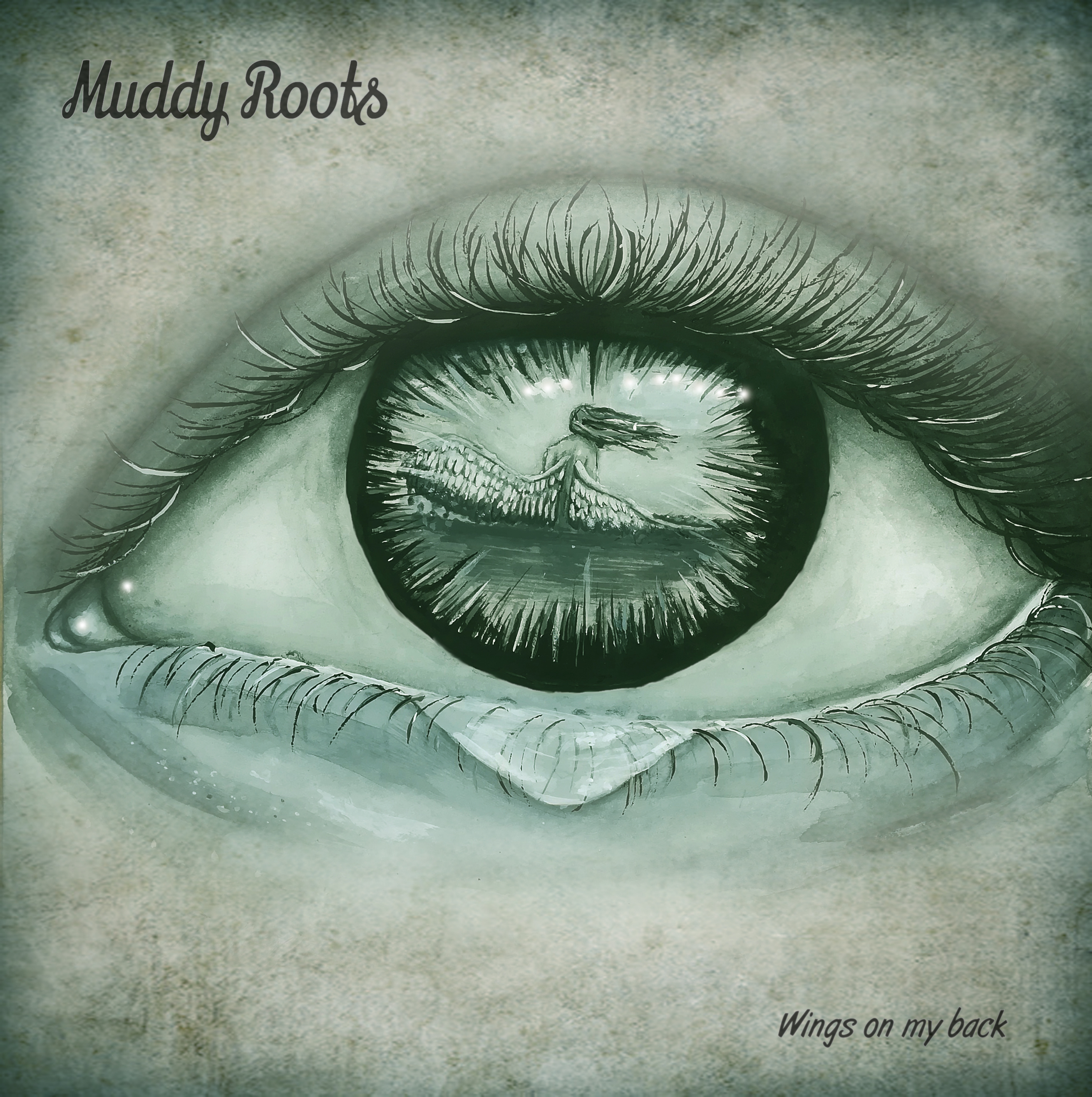 December 13-án jelenik meg a kőbányai Moody Roots zenekar első lemeze a Wings On My Back. Ennek apropóján egy kis ízelítőt adunk a lemezből, plusz egy mini interjú a zenészekkel. 
Stoner.blog: - Szeretnék egy-két dolgot kérdezni a lemezzel kapcsolatban.
Atis: Okézsoké :)
SB: - Lehet-e új lemeznek nevezni ezt a dalcsokort, hiszen vannak itt olyan szerzemények is, amit még a Burning Full Throttle égisze alatt íródott?
Feri: - Természetesen lehet új lemeznek nevezni, mert az a pár dal nem jelent meg, ill. nem igazán sikerült jól a rögzítésük úgy ahogy szerettük volna, és a felállásunk is változott, ami szintén befolyásoló tényező volt. Ha az a kérdés, hogy mennyiben más ez a lemez, mint ami a B.F.T. alatt íródott, akkor a válasz: semennyire, de mégis merőben más. Aki ismeri a történetünket annak a névváltoztatás feleslegesnek tűnhet, de mi le akartuk zárni azt a történetet.
Atis: - Véleményem szerint lehet, úgy felesben. Az is igaz, hogy a Burning Full Throttle-nél indultak az ötletek, de a befejezés teljesen Muddy Roots-os, mind hangzásban, mind megjelenésben.
Csabi: - Igen, jogos a kérdés. Pár számot játszottuk B.F.T. koncerten, és volt, amit fel is vettünk, de ezek nem kerültek ki publikusan semmilyen hanghordozóra. Nem is volt betervezve, hiszen a feloszlás után nem is tudtuk mi lesz. Majd, amikor összeállt a Muddy Roots, úgy döntöttük néhány számot megtartunk, mert jó számok, és szeretjük őket játszani. Valamiből csak a szöveget tartottuk meg, valamelyiket teljes egészében. De a kérdésre válaszolva, igen, számunkra ez egy teljesen új lemez.
SB: - Hogyan jött ez a nagyon száraz, "húsbavágó sound"?
Atis: - Ezt Feritől kérdezzétek, nem értek hozzá, én csak a "Hátulütő" vagyok! Hehe... :) Igazából én nem érzem annak, ha Te mondod biztos az. Számomra ez nagybetűs ROCK zene, ha húsba vágó akkor is. Lehet nyers, meg kő egyszerű, de engem megmozgat. :)
Csaba: - Miután a Muddy Roots már trióban működik, így a hangzáson is kellett változtatni. A "mentett" számokat is átkellet hangszerelni, hogy ne tűnjön üresnek, vagy ne legyen senkinek hiányérzete. De mindenképp olyan élő lemezt akartunk bemutatni, ami hasonlóan szól mint, amit a koncerteken tudunk adni. Semmi steril kozmetika, csak ahogy te is mondtad, száraz, erőteljes, kissé "vintage" akusztika. Azért is döntöttük úgy, hogy egyszerre játsszuk fel a számokat.
Feri: - Csabikám, a lónak a tekerentyűjét! Azért vettük így fel, mert lusták vagyunk, meg amúgy sem érünk rá semmire. Bár az is igaz, hogy ez a megoldás nagyban segített az összkép kialakulásában. Az tény - ahogy Csabi is mondja –, hogy egy garázsos, nyers, koszos valamit akartunk, és reméljük sikerült is annyira, hogy másnak is tetszik.  És kedves Nico, az külön öröm, ha neked úgy jött le, hogy húsba vágó, mert szerettünk volna neked fájdalmat okozni, hogy érezd a törődést. Na jó ez belterjes volt, majd kivágod. :)
SB: - A lemez borítója nagyon szép lett. Kinek a keze munkáját dicséri?
Atis: -Ó, köszi, örülök, hogy tetszik. :) Feri lányának, Rékának a keze munkája. Neki is maximális köszönet érte, igazán tehetséges.
Csabi: - Feri kislánya, Réka készítette nekünk, az album cím alapján. Nagyon tehetséges, és ha így halad nagyon profi művész válik belőle. Ezúton is köszönjük neki.
Feri: - Jó persze, próbálnátok mást mondani, akkor lesújtana az atyai szigor! Végre lett valaki a közelünkben, aki tud festeni meg rajzolni, szintén lustaságból kihasználtuk, hogy a nagyobbik lányom Réka ilyen irányú iskolába tanul tovább, és lecsaptunk az alkalomra. Tudod Nico, valakinek a "maffia" a családja, nekünk a családunk a "maffia". Na jó, ez elég gáz lett! Kezd a riport egy család barát magazinná fajulni. Nem baj majd elküldjük a Nők Lapjának is! Hehe...
SB: - Hol lehet titeket elcsípni a legközelebb?
Csaba: - Még két bulink lesz idén, az egyik november 30-án Kiskunfélegyházán, a Tripla Music Clubban, ahol többek között a Killer Mendez, és a Baron Mantis is fellép. A második pedig Budapesten az S8 Underground Clubban, ahol a Heim Pál Országos Gyermekkórház számára szervezett jótékonysági Koncerten lépünk fel.
SB: - Ki írja a dalok szövegét, és van-e valami általános koncepció?
Csabi: - A dalszövegeket én írom, és vagy megtörtént, vagy elképzelt eseményeken nyugszik, és inkább érzelmi, mint tudatos mintán alapul. Semmi nagy megfejtés. Az élet amúgy is ad nem kevés témát ehhez. Nyilván nem tudom, tudjuk magunkat megkerülni, így az utazós, sivatagi témák is maradtak, de igazából bármiről szólhat. Politizálni nem fogunk azt megígérem. Azt meghagyjuk az arra kompetensebbeknek. És külön köszönet Dörgő Zsuzsinak, aki segített ráncba szedni a szövegeket.
SB: - Melyik sör a kedvenc?
Csabi: - Mi mást írhatnék erre: csak a Kőbányai! Mindig! Na jó a Soproni, meg a Borsodi is jöhet...tüskével! Vagyis Jäger-rel…De Ferinek, meg Atisnak van saját sörük is, azt majd ők kifejtik.
Atis: - Ez még kérdés? Kőbányai, na jó a Miller-t is kedvelem. :)
Feri: - Gyerekek mi ez a reklám dömping, kaptunk mi ezért pénzt? Na jó, nekem tök mindegy, csak kukorica ne legyen benne.
SB: - Terveztek-e még valami videót? Ki lesz benne meztelen?
Atis: - Igen Nico! Mindig az, aki kérdezi. :)
Csabi: - Na végre egy jó kérdés, valaki beavatott látom! A "Devil's Highway" klipjére próbáltuk leszervezni Keanu Reeves-t a Kis Buddha, vagy Dave Grohl-t, a Végzet Pengetője miatt, de a koncertek, és az új Bill és Ted forgatása miatt, nem tudták vállalni. Maradt a "Dance In The Sand", ahol Katheryn Winnick, Kate Hudson és Emma Watson helyett csak Kathy Bates ért rá a pucér táncos szerepét elvállalni. A többi infó később!
SB: - A "Dance In The Sand" dalban kinek az ötlete volt a kolomp?
Atis: Az enyém, talán nekem ugrott be először, hogy próbáljuk ki, és bejött.
Csabi: Ne már, van benne kolomp!? Tuti Atis ötletét képezte a dolog! Hehe…
Feri: Nico, neked szerintem a kolomp a fétised.
Csabi: Hehe...Kolomp-Fétis. Biztos a kis birka lelke miatt! :)
SB: AMEN!