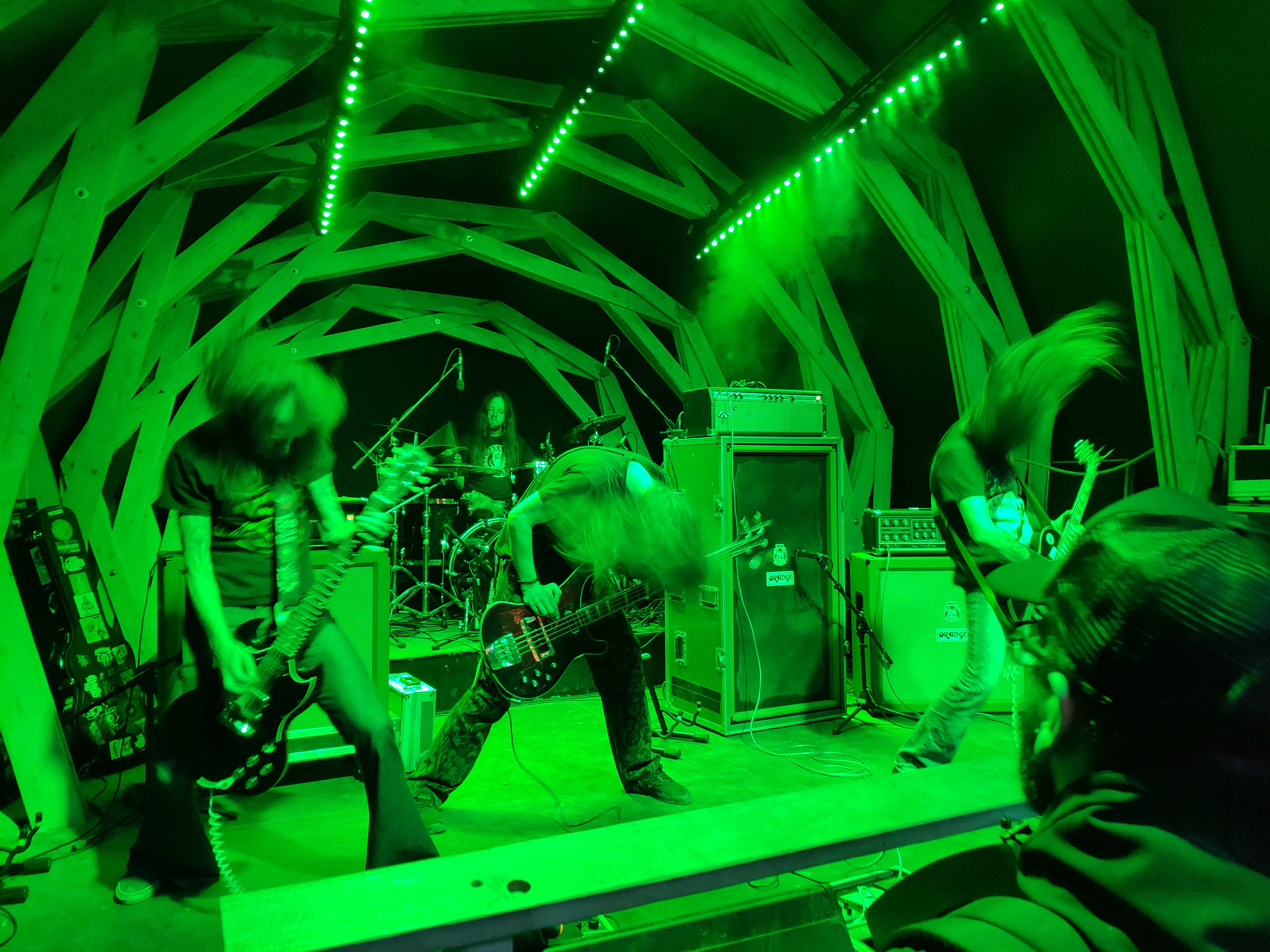 Valamikor kb 4 éve kattintottam rá a youtube-n az első stoner rock mixre. Amit akkor hallottam, az jó pár évre meghatározta a zenei ízlésemet, érdeklődésemet. Valami újra, különcebbre, igazabbra, letisztultabb és sallangmentesebb zenére vágytam. Az első dal a mixben a Bongthrower nevezetű BelzebonG nóta volt, ami azonnal elvitt arra a bizonyos helyre ("Follow the smoke toward the riff filled land"), ahogy azt a Sleep is megénekelte Dopesmoker című ópuszában.

Ezen élmény után alig vártam, hogy élőben is láthassam a zenekart, ami a 2018-as Fishing on Orfű fesztiválon meg is történhetett, csupán 4 évet kellett rá várnom :)
Viszonylag hideg és csapadékos nap volt, de legalább péntek. Budapestről utaztam Pécsre, ahonnan aztán még el kellett jutni Orfűre. A fesztiválon most voltam először és igaznak bizonyultak a köznyelven forgó vélemények. Rendkívül családias, hangulatos rendezvény köszöhetően a gyönyörű zöldövezetnek, az orfűi tó közelségének, illetve annak, hogy létszám limit van. Nincs túl sok ember, szinte nem kell sorban állni sehol és ez nagyban hozzájárul pozitívan az élvezhetőségi faktorhoz.
Az adott napon a BelzebonG előtt fellépett a HAW is, amit sajnos ismételten nem volt alkalmam meghallgatni teljes egészében (hasonlóképpen jártam, mint a Dopelord előtti fellépésükkor), illetve az Apey and the Pea, akik szintén nagy kedvenceim és már a nagyszínpadon kaptak lehetőséget az idei budapesti Akvárium által rendezett tehetségkurató verseny győzteseként.
A BelzebonG előtt sikerült elfogyasztani már pár korsó sört, úgyhogy az alaphangulat abszolút meg volt. A színpadhoz lépve találkoztam az Antal zenekar frontemberével és dobosával, a srácok is nagy Belze fanok :) Együtt csöpögtettük a nyálunkat a roadok által felpakolt gitárcuccokra, hangszerekre. Majd lassacskán megjelentek a tagok is és elkezdődött a beállás. Érdekes volt hallani, hogy ők beszélni is tudnak, hisz az élő felvételeken ezt a képességüket általában nem mutatják be már-már védjegy szerűen. Semmi konferálás, vagy egyéb... csak a zseniálisabbnál zseniálisabb riffek hömpölyögnek lassacskán a hangszóróikból.
Nem volt ez másképp azon a napon sem. Kisvártatva belecsaptak a lecsóba, elkezdődött az őrület, a riffhegyek ömlöttek az arcba, a fuzz megrezegtette a belső szerveket. A tempó még lustább és vontatottabb volt, de ez nem volt baj, sőt épp ellenkezőleg. A dalok így jóval húzósabbak lettek. Hátratekintve nyugodtan konstatáltam, volt nézősereg rendesen, pedig a zenéjük abszolút nem a populáris, könnyen befogadható kategória még sok, az adott stílusban otthonosan mozgó embernek sem, ugyanis instrumentálisak a dalok, nincs vokál. Ez sokakat elijeszthet.
A zenekari tagok névjegyszerűen végig headbangelték a koncertet a rájuk szintén jellemző zöld színben úszó színpadon. Sheepy dude-nek ott lógott a basszusgitár nyúlványán a basebal sityesz, Cheesy dude-nek még megvolt a police line-os gitárheveder és a Bigsby tremolos Les Paul gyönyörűség, Alky dude pedig próbált egy helyre nézni, néha összejött... :)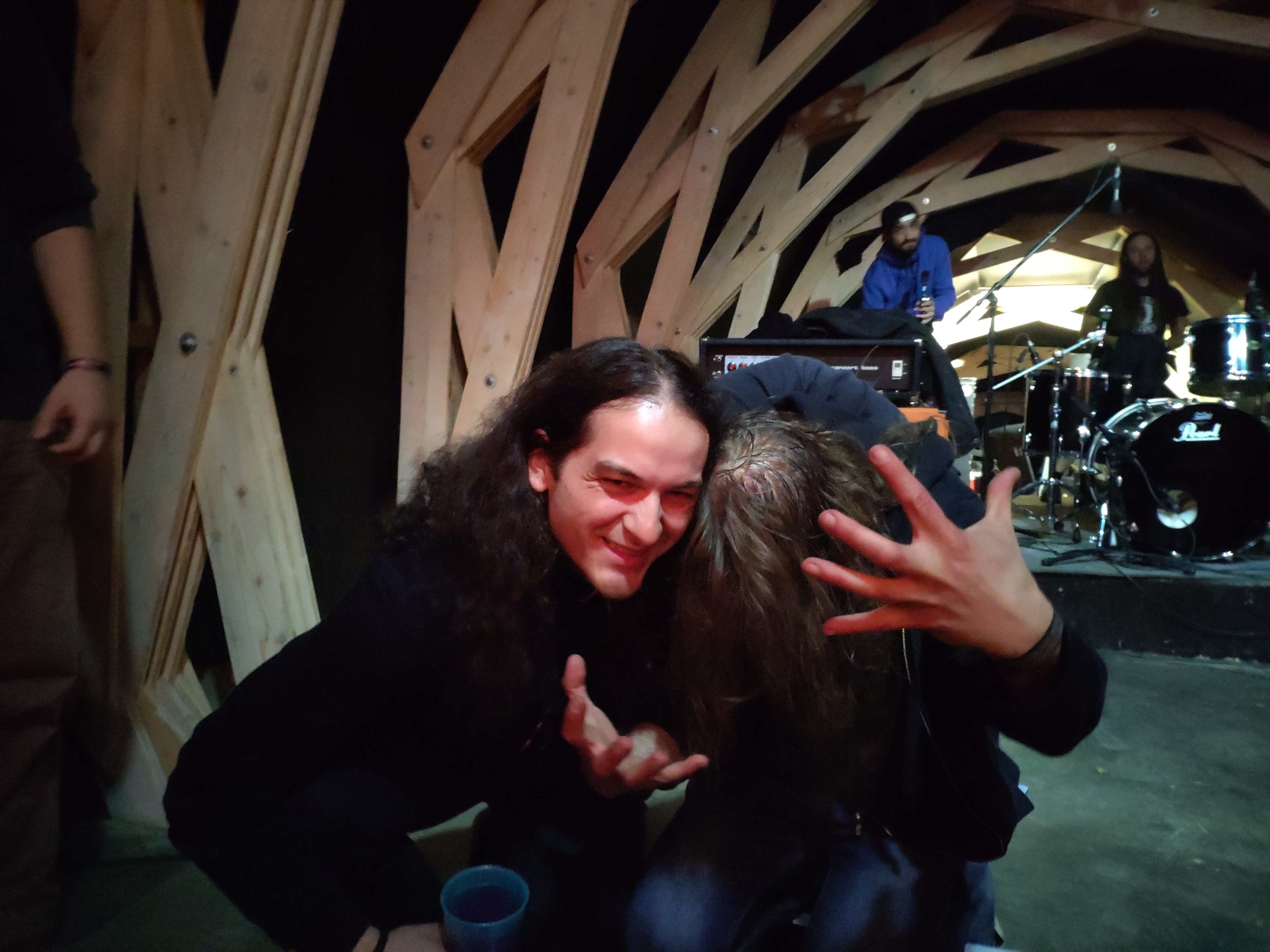 sztárfotó Alky dude társaságában :D
A setlistre sajnos nem emlékszem teljesen, de szinte az összes "slágert" eljátszották, egy valamit azonban sajnos kihagytak, a személyes kedvencem, az Acid funeral kimaradt. Gyanítom azért, mert nem maradt rá idejük. Sajnos fesztivál révén csak egy órát játszhattak, ez náluk kb 5-6 dalt jelent, a kimaradt dal pedig 12 perc hosszúságú.
Setlist kb:
Diabolical dopenosis
Bong thrower
Witch rider
Inhale in Hell
Names of the devil
Goat smokin' blues
Tomitól az Antal gitárosától aztán jött az info, hogy novemberben ismét nálunk fognak játszani, ugyanis Budapesten a Dürerben kezdik meg a turnét a The Necromanchers és a Red Swamp társaságában. Arra is mindenképpen el fogok látogatni és bátorítom az összes olvasót, hisz az egyik legjobb doom/stoner blues zenekarról van szó.