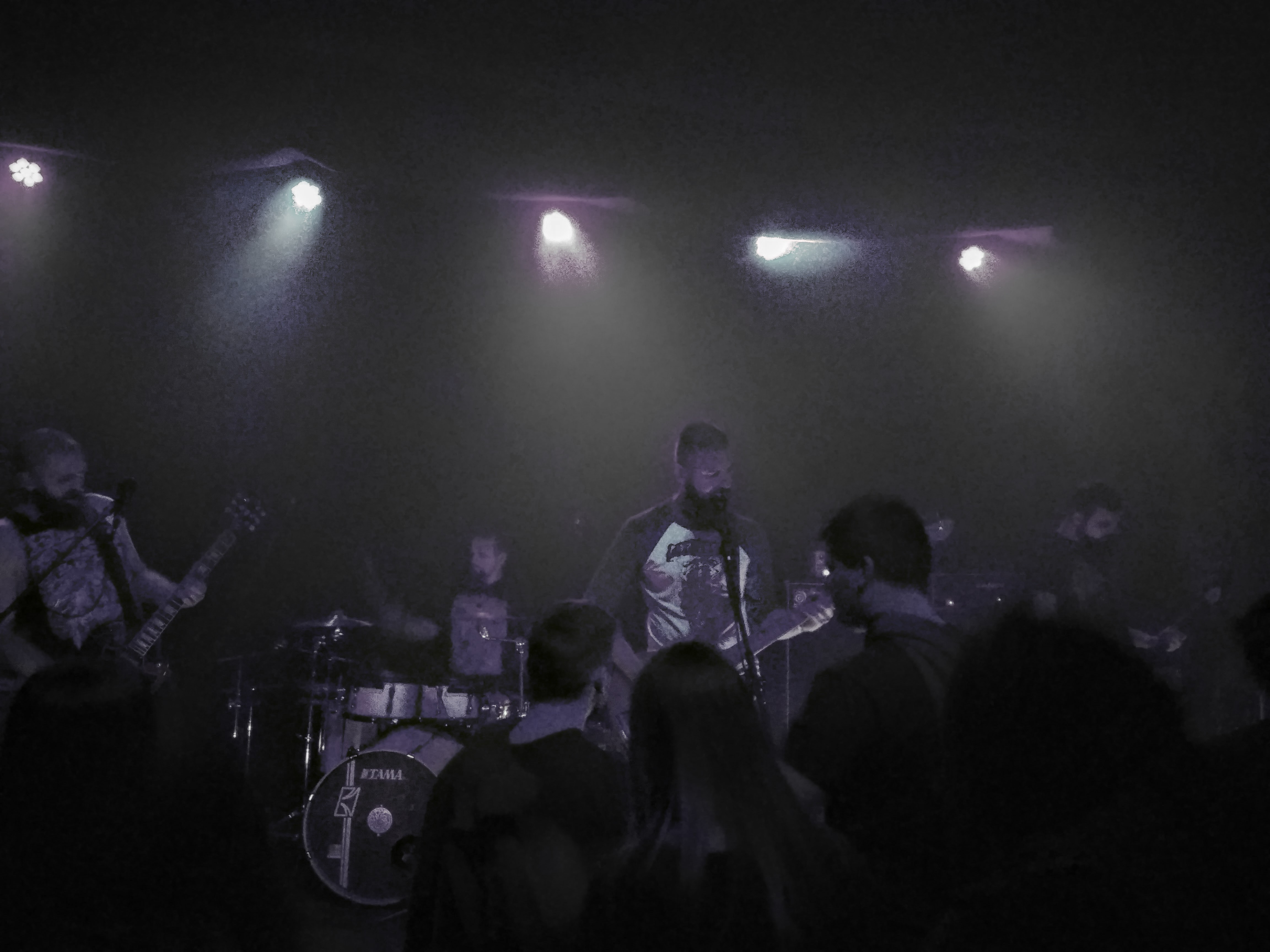 Február 21. szintén egy olyan este volt a Dürer kert történetében, amikor is az egy négyzetméterre jutó dús hipszterszakállak számossága rekord közeli értékeket ostromolt, ugyanis a jelenkori stoner/doom/pszichedelik szcéna egyik legmeghatározóbb zenekara, a lengyel Dopelord lépett fel első alkalommal Budapesten. 
Kivételesen egész pontosan sikerült érkeznem. Egyetlen előzenekar, a HAW lépett fel a főbanda előtt, akiket - a jelen lévők nagy részével ellentétben - még nem hallottam. Viszonylag kevés idő jutott nekik, de ezalatt is sikerült remek hangulatot teremteniük. Mi sem támasztja ezt alá jobban, mint a közönség sűrűsége a teremben és a sok bólogató fej. Zenéjük első hallásra nem igazán fogott meg, azonban ezzel nem akarom leírni őket, mivel sok olyan zene van, ami idővel, többszöri hallgatás után üt be nálam. A tagok jellegzetes, stílushoz való megjelenése, a játékuk igényessége, illetve néhány egész trükkös és ötletes ritmusváltás emlékezetessé tette a fellépésüket, szóval ha legközelebb lesznek, újra elnézek rájuk remélhetőleg már egy hosszabb koncert megtekintésének lehetőségével.
Kb 30 perc előzenekar után következett egy viszonylag gyors átszerelés, amit már a Dopelord tagjai végeztek. Kinézetre igazán barátságos figurák, nem mondaná az ember, hogy bizonyára otthon fekete misét tartanak minden szombaton, kecskékkel cimborálnak és rendszeres tudatmódosítószer fogyasztók. (Nyilván most túlzok, de minden "viccnek" van alapja...  
Érdekes módon nem volt sound check, pakolás után szinte azonnal a lecsóba csaptak. Bár nem voltak túl hangosak, a hangzás tökéletes volt az első pillanattól kezdve. Ugyanúgy szóltak, mint a legutolsó album felvételén. Ha kellett hörögtek, fröcsögtek a fuzztól a gitárok, a basszus és a dob homogén módon támogatta egymást a mélyebb frekvenciákon, ugyanakkor tisztán is szépen kivehető volt mindegyik hangszer. A basszusgitáros és gitáros meglepően szépen és tisztán énekelt, de a velőt rázó hörgő hangszín sem hiányzott a torkokból. A dalok nem csak hangzásában, de előadásmódjában is úgy szóltak mint a lemezen. Gondolok itt a bevágott filmrészletekre, amit élőben indított az egyik gitáros egy padló effekt segítségével, ha jól láttam. 
A zenekar védjegyévé vált stílusú delayezett gitárhanggal indítva kezdődött az utazás (Navigator), majd ahogy belecsaptak a főtémába a közönség egyszerre kezdett apátiában és gyönyörben úszó masszaként bólogatni, ami annyira jellemző a stíluson belül és ami egyben jelzi is, hogy a zenekar szinte azonnal elérte a célját, a nézősereg egy másik állapotba került szinte azonnal a sistergő gitárok hangjától. 
A második dallal visszakanyarodtunk a kicsit nyersebb stílusú második lemezhez, amely a Black Arts, Riff Worship & Weed Cult címet viseli egy könyedebb dallal az Addicted to black magic-el. 
A kis "lazítás" után ráfordultunk az új lemez (Children of the Haze) talán legsúlyosabb és egyben legfülbemászóbb dalára a Scum Priestre. Ez egy klasszikusokat idéző, ha lehet ilyet mondani "doom sláger", ami az összes olyan elemet tartalmazza a stílusból, ami elengedhetetlen, ha zseniális dalt akar írni az ember. Nekem sem kelletett több, elkezdtem rázni a rőzsét a többiekkel, hatalmas élmény volt, ahogy a dobszólónak is beillő intro után belezúgott a főtéma az agyba, aztán jött a kiabálás és hörgést elegyítő vokál... majd újra a refrén..
Zseniális volt! 
A következő dal ismét visszavett picit a tempóból, egy "elszállós" dal a Dead inside (I&II) következett a különleges funeral doomos hangulatával. 
A csodálatos refrénnel megáldott Childre of the haze után a már-már punkos gyorsaságú Reptile Sun következett, ami nekem személy szerint meglepetés volt sodró lendületével.
A koncertet pedig nem lehetett mással zárni, mint a legnagyobb slágerrel az Acid Trippin'-el. Ezt a dalt még annak idején, amikor elkezdtem hallgatni a stílust, egy stoner rock youtube video mixben hallottam. Méltó zárása volt az estének.
A koncert után a srácok ismét pakolni kezdtek, egyikük a merch pulthoz rohant, készségesen kiszolgálta az érdeklődöket, a többiek a pakolás közepette szívesen álltak oda a fényképezőgép elé, adtak autogrammot, vagy váltottak pár szót a közönség tagjaival. Igazán szimpatikus figuráknak tűntek tehát. 
Remélem jönnek máskor is, mert csodálatos élmény volt azon a borongós szerdai napon a Dopelord koncertje. 
Nem kimondottan a koncerthez tartozik, de pont aznap derült ki, hogy a másik nagy lengyel csapat a Belzebong is meglátogatja kis hazánkat, mégpedig az Fishing on Orfű keretein belül, ráadásul egy napon játszanak Apeyékkel, szóval részemről a megjelenés kötelező, illetve ajánlom azoknak is, akik ott voltak ezen a koncerten, illetve a stílus rajongói. 
A koncert setlistje:

Navigator

Addicted to black magic
Scum priest
Dead inside
Children of the haze
Reptile Sun
Acid Trippin'