Így, az év végére tartogatunk még egy frissebb, de legalábbis idei megjelenést, méghozzá a hazai színtérről. Statisztikailag nem vagyok képben, de valószínűleg alulreprezentált a magyar muzsika itt a blogon. A mérleg nyelvét billentve, egyúttal elbúcsúztatva az óévet, következzen egy magyar produktum bemutatása!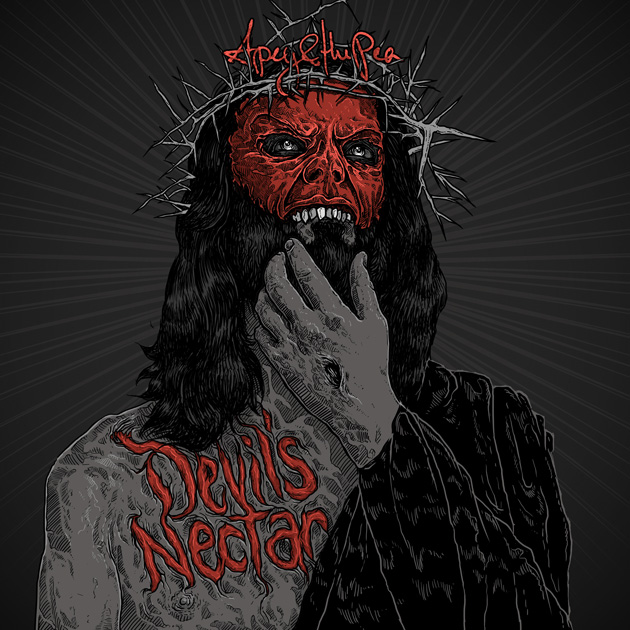 Történetünket Apey-vel, a főszereplővel kezdjük. Ezen a néven – mármint szimplán a sajátjával – kiadott már egy félakusztikus lemezt, ami egy grunge-ízű, merengős cucc volt. Ami ott és akkor a korongon kiderült, az az, hogy van itthon egy bivalyhangú, karizmatikus frontemberünk, jó dalokkal. Azóta már tudjuk, hogy a srác a színpadon sem okoz csalódást: lebömböli az eget. Például ő volt a Remembering The Steel (="magyar Pantera") hangja, és láthatjuk időnként a NeckSprain mikrofonja mögött is. Pluszban iszonyat nagy arc, lásd a Kettőnégyes interjúját SP-vel vagy vele készített interjút bárhol...
És még csak most jönnek az Apey and the Pea formációval készített cuccok! Ott van mindjárt a dögös-tökös rákenroll maxi, 'Better' címmel, iszonyat húzósan és delejesen. A 'The Day Ends' kislemez, amin visszaköszönnek a grunge-os megoldások, de már elég stoneres is egyben.
Az évzáróra pedig itt a 'Devil's Nectar', az első nagy lemez, csupa nagybetűvel!
Nem mondom, hogy ez a lemez kis hazánk metál zenéinek lángoló kőoszlopa, a hazai rocktörténelem alfája és omegája, a honi gitárzenék non plus ultrája, vagy hogy végre megszületett az az album, ami saját hajánál fogva rángatja ki az egy helyben topogó Magyar Metált a posványból. És mégis: elkészült egy releváns stoner/sludge/southern album, olyan minőségben, olyan karakteresen és olyan körítéssel, ami egyértelműen sugallja a totális profizmust, és nyugodt szívvel a nyugati szelek hátára tehetünk, hogy szertevigye muzikális rablóhordánk hírét a világban.
Bontsunk hát déli zászlót, és nézzük is, hogyan csepegtetik ajkunkra az ördög nektárját!
A nyitó 'Nazareth' nem szarozik, beletolnak a pofánkban egy egyszerű és nagyszerű southern metál/stoner riffet, de akkorát, hogy a hangfal adja a másikat! Aki itt ki akar szállni, az tegye meg, ezt a dalt ugyanis nyugodtan tekinthetjük vezérfonalnak! Húz, mint a barom, az énekhang állva hagyja az újkori Anselmo-klónok egész generációját, a gitártémákra Dimebag szelleme is elismerően biccent. A nevek ellenére, aki azt hiszi, hogy egy megkésett Pantera-kópiát kap, az téved!
Szerencsére ügyes kézzel nyúlnak a különféle stílusokhoz, jól használják ki Apey hangi adottságait. Így hallhatunk grunge-os énektémákat ('Nay') vagy éppen betonvas lábakon cammogó, sludge-őrleményeket ('The Four Horsemen' vagy a 'Judas') is, de főként középtempós, délies ihletésű dalokat hallunk. Az erő nyers kinyilatkoztatása, kilenc tételben!
Tudom, kissé úgy hangozhatott eddig, hogy csak Apey-ról szól minden, ezért a végére jegyezzük meg, hogy a többiek is kiváló teljesítményt nyújtanak! Nagy tapsot Perpelicza Zoltánnak és Makai Lászlónak! Egyszerű, de erőteljesen, lendületesen pakolt témák. Feszes tempó, nyers, helyenként koszos hangzás, és végtelen delejesség. Azt hiszem így lehet összefoglalni e kiváló dolgozatot. Nekem egyetlen hiányérzetem van: pár ütős gitárszóló bizony elfért volna ezekbe a szerzeményekbe!
Nem szaporítom tovább a szót: több mint megnyerő anyag született, ami remélhetőleg oda juttatja a csapatot, amit a teljesítményük alapján megérdemelnek! Remélem a közelgő új esztendő hasonlóan jó zenéket tartogat majd a számunkra, és külön öröm lenne, ha sok hazai korongot szedhetnénk ízekre és ajánlhatnánk meghallgatásra. Mindenkinek legalább ilyen súlyos zenékben gazdag 2014-et kívánok!