Tisztázzuk először is azt a tényt, hogy legalább 3-4 metál zenekar fut Sideburn néven. Jelen pillanatban az 1997-es alapítású (még ilyenből is legalább kettő létezik!), svéd formáció legutóbbi anyagával foglalkozunk. A srácok szerepeltek már a blogon, 'The Demon Dance' című, 2010-es kiadványukkal, akkor joshibarat elég jó véleménnyel volt a lemezről. A mostani korong sajnos több mint egy évig kallódott feldolgozatlanul, ideje hát igazságot szolgáltatni neki!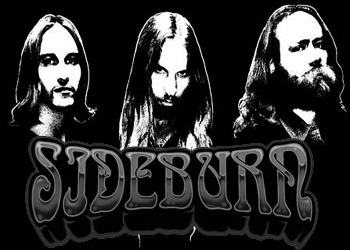 A banda a Transubstans Records égisze alatt dolgozik legutóbbi lemezük óta. Ahogy végigböngésszük az istálló neveit, találkozhatunk ismerősökkel; nekem elsőre a Graveyard, Skraeckoedlan, Stonewall Noise Orchestra, Oresund Space Collective négyese köszönt vissza. Ezek alapján az volt a minimum, hogy minőségi anyagot kapunk, a másik garancia pedig származásuk. De komolyan, arrafelé minden háztartásra jut egy minőségi rockzenekar?
Szóval mi várható az érett formáció negyedik lemezétől? Bevallottan a hard rock felől közelítenek az arcok, hatásaik – természetesen – Led Zeppelin, Black Sabbath, ehhez hozzácsapnak egy adag kortárs klasszikus rock zenei hangzást, mint amilyen az Alter Bridge-é. Jöhet a paletta színesítése csipetnyi doommal, plusz egy kis progresszivitás és egy löket blues. Kész is a négyes Sideburn-koktél. Mindezeket még a kiadó mondja, nem én; szerintem a prog-vonal és a blues is kevésbé kézzelfogható.
Ugorjunk hát neki a lemeznek! Először is van, ami maradt és van, ami változott a Démon Tánc óta. A nagyívű témázgatás speciel maradt. Az ének terén ez még rendben is van: csúcs profi minőség, ebben az érában abszolút versenyképes hang, sőt! Jani Kataja témái és tudása biztos hard rock/heavy metal alapokon nyugszanak, minden mozzanata a helyén van. (Torkát halld még: Mangrove.) Pont miatta, ez a zene egy kicsit mindig inkább jófajta rockzene marad, mint mondjuk doom, na persze ezzel nincs is semmi gond.
A dalok törekszenek arra, hogy sokat adjanak, viszont nekem kicsit hosszúak a számok. Hat-hét perc az átlag, és bizony monumentalitás ide vagy oda, nekem ez túl sok a jóból. Nem akarom a kevesebb=több frázist elsütni, de a Tomorrows Dream a legrövidebb számuk, és micsoda totális rockhimnusz! Óriási refrénje van, hangerőt fel!
Szerencsére a gitárosok tudása megkérdőjelezhetetlen, király szólókban és ráspolyos reszelésekben is otthon vannak. Elég a nyitó Diamonds-ot meghallgatni, és tudni fogod miről beszélek. Pont a már említett két dal a legpörgősebb amúgy, alapvetően egy középtempós vagy kicsit annál is lassabb lemezzel van dolgunk, bólogatós, hol vánszorgós, hol lebegős témákkal. A csipetnyi space hatást, amit kihallottam az előző korongon, nos, azt viszont nélkülöznünk kell.
További veszteségeink is vannak: akinek bejöttek az előző lemez hammond fátylai, azokat kissé el kell keserítenem! A IV Monument-en ilyesmi csak elvétve akad. A Fire and Water-ben, illetve a The Saviourban megbújik ugyan egy leheletnyi, de félszegen maszatol a háttérben.
Összességében adott gy csúcsminőségű stoner/hard rock korong, bitang, eltalált nótákkal, sajnos borzalmasan közhelyes dalcímekkel. Aki csípte az előző lemez(eke)t, annak azonban feltétlenül ajánlott. Legutóbb a Grand Magust és a Spiritual Beggarst emlegettük velük kapcsolatban, most inkább az utóbbit húzzuk alá kicsit vastagabban. Nagy terpesz, farmerdzseki, lábakat a hangfalakra!