A pornó pont olyan, mint a zene. Ugyanúgy vannak benne kötelező elemek, például a zenében ugye a kiállás, a pornófilmekben az orál. Aztán az arcok, akik viszik az ipart: Sasha Grey, Jenna Haze, Hobo, Johnny Garcia, Marc Dorcel, Ozzy (igazad volt Dávid, Sasha Grey és Hobo tényleg nem szerepelt soha egy kontextusban, és te sem velük :). Nélkülük egy nagy semmi lenne az életünk, az kurvára biztos.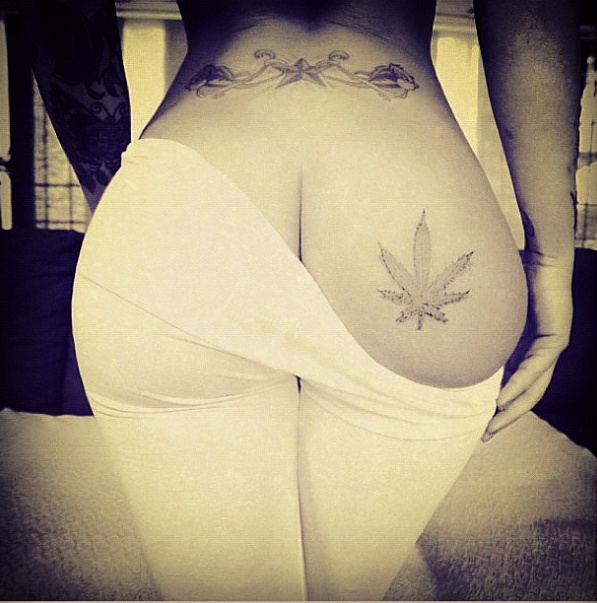 Az iménti felsorolásban próbáltam a legjobbakat leírni, de szót kell ejteni arról is, amit a tejesdoboz alján találsz, ha szétbontod. A pasztőrözött dzsuváról. Random kattints valamelyik szexvideó oldalon, és megtalálod. A zenében kicsit más a helyzet: Amikor valami epikus méretű shittel hoz össze a youtube, vagy a e-leveles fiók, úgy érzem, mintha egy idiótával kommunikálnék. Nagyjából értem, mit akar mondani, de a kódolásba valami hiba csúszott, és nem tudom dekódolni. És ez csak a dzsuva-hegy teteje. Az igazi, pasztőrözött, előmelegített szart bármikor megkaphatod a billboard bármelyik listájáról. Érdemes a country top 100-al kezdeni, mert ha varázsmérges gombát ettél, megúszod a gyomormosást.
De száz szónak is egy a vége, hoztam nektek egy szexi, nyár végi stoner zenei válogatást. Én azt mondom, bassza meg az új btk., hívjátok át Mary Jane-t és relax.
150%-os fuzz, visszakettőpadló zene. Pszichadelikus partikon kötelezővé tenném a kicsit retardált nevű olasz Lizard Queen-t. Egyszerűen imádom ezt a széttorzított gitárt, ami nem más, mint egy Fender Jaguar rákötve egy Korg AX3000g effektre. Amikor ezt a számot hallgatom, városon belül a szokásos 70 helyett legalább megyek 80-nal. Még fuzzzzzt! Itt a cucc, jobb minőségért katt a bandcamp linkre. Ha tetszik, azt úgy jelezheted az együttesnek, ha nyomsz egy lájkot, ide.
Akinek nem lábad könnybe a szeme a következő, mélyen megható dalt hallgatva, az valószínűleg normális. Négy angliai srác, a HC, a God Save The Queen, és a stoner metál találkozása csak két percig tart, de garantáltan maximális kelégülést okoz. A Whoremoan (moan=nyögés) egyébként saját bevallása szerint is azért jött létre, hogy fájdalmat okozzon, méghozzá a fülünkön át. Kurvák, ökölrázás, beteg riffek, 180 BPM. I fuckin' luv you guyz. Ha te is, itt teheted közzé.
Betépéshez (én inkább a lecsengéshez ajánlom) elsőrangú a kaliforniai Motordrone száma. Nem tudom, ti hogy vagytok vele, de én nem szoktam a zuhany alatt énekelni. Eddig! Végre itt egy szuper dal, aminek a szövegét sosem fogom elfelejteni. Úgyhogy, ha ennek a számnak a szövegét énekli valaki a mellettetek lévő zuhanyzóban a napfényes horvát tengerparton... Nos, hívjatok meg egy sörre. Lyrics: white plush, shag rug, red crushed, velvet sofa, black light, overhead, red crushed,velvet sofa. Hallgattam egyszer egy japán népdal válogatást, a dallamvonal onnan nagyon ismerős volt. Ott is tetszett. Bandcamp.
Igazi amerikai stoner zene következik, azzal az utánozhatatlan sivatagi hangulattal, és mocskos hangzással, ami ezeknek az együtteseknek a sajátja. Nekem nagyon bejön a gitártémája ennek a számnak. A középtempós résznél egyszerűen elemészt. Első blikkre látszik, hogy tapasztalt, gyakorlott zenészek. Nem erőltetnek semmit, hagynak lebegni a dallal, és azt kapod amit vársz. From The West: Black Bird, és itt a többi.
Swampfuzz. A '60-as évek pszichedelikus hangulata ötvözve kemény blues riffekkel. A Large Marge Louisiana-ból ezt a zenét játssza, méghozzá úgy, hogy a fejed és a gerinced sosem fog 180 fokban állni 0.5 másodpernél tovább. Wake up számnak tökéletes, még jobb, ha a szomszédok is erre kelnek. Lift a rock and roll legmélyebb bugyraiba. Látogasd meg őket, és írd meg milyen őrültséget csináltál a dal közben.
Végül az elmaradhatatlan bonus track, egy villogó ROFL felirattal. A parlamentbe velük, de gyorsan. Dobj nekik egy lájkot, ha te is tudod imitálni a fénykard hangját, egyet pedig nekem, ha még mindig csinálod néha.
Thank you MrStonebeliever!