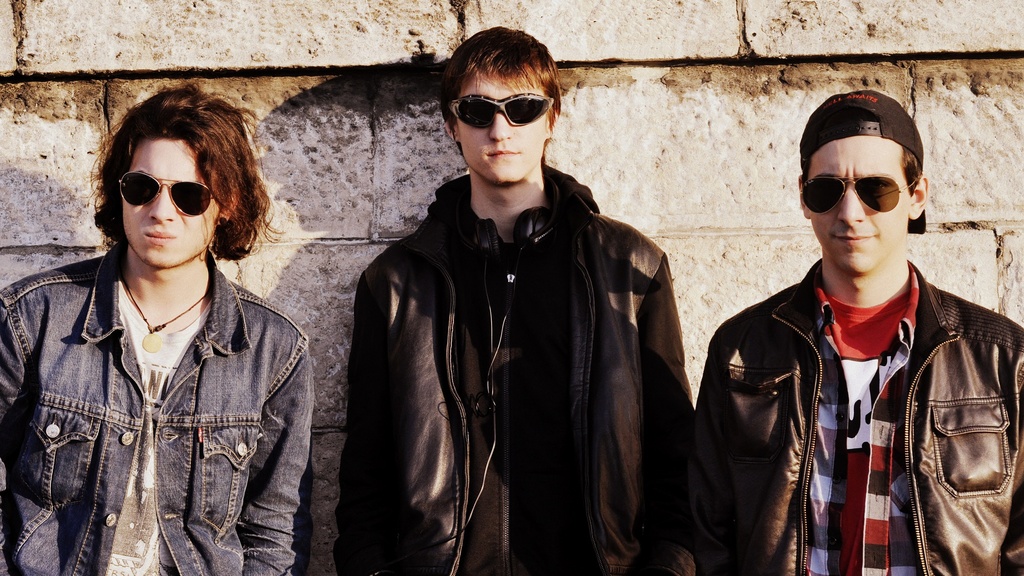 Tegnapi tökéletes hangulat...
Szegény Lost Againnek - saját választásom szerint - megint én jutottam, és nem én vagyok a blogon a legékesszólóbb, legfennköltebb és azt hiszem nem is a legelborultabb, viszont talán én vagyok az egyik legtegnapibb - hobbi - zenész, a legtöbbet zenélt, a legtöbb stúdiót és színpadot megjárt, és mint a magyar rokkzene elközelezett híve - ki minduntalan próbálja a magasba tartani azt a zászlót :) - próbálom a magyar bandákat kihalászni a sűrűből, hogy ne csak azt hallják mindenhonnan, hogy "ez tök jó", meg "királyok vagytok", de kapjanak őszinte kritikát, esetleg segítséget elsőkézből olyantól, aki már többet járt azon a nem könnyű úton, amin most ők is haladnak. Most, hogy agyonfényeztem magamat, csapjunk bele.
Szerepelt már nálunk a Lost Again korábban is, nem írtam róluk sokat, de keveset. Nem is az a lényeg, hogy én vagy más mit mondunk róluk, vagy más bandákról, hanem, hogy aki hallgatja annak mit ad, mi csak kedvcsinálónak írkálunk a saját gondolatainkról, érzéseinkről, adott zene kapcsán. Sokkal fontosabb, hogy teret kaptak, figyelmet az olvasóktól, akik erre járnak és sokan meghallgatták a bemutatkozó anyagot, ebben mi is segítettünk. Sőt, meghívtuk őket a Stoner Blog bulira is, kaptak színpadi erősítést is kölcsönbe. Talán az első koncertjük volt, ha jól emlékszem.
Akkor mégegyszer belecsapok: az első anyag kapcsán is tisztán látszott, illetve hallatszott, hogy a LA tehetséges formáció. Mostanára úgy beértek, hogy igazán nincs is mit okoskodnom itt a dolgokon, a cucc úgy jó, ahogy van! Az EP-n két jammelés hallható. Igen, két számos az EP, nekem ez annak ellenére is kevés, hogy a két szám együtt több, mint 18 perces (mindkettö 9:08). Szóval nekem kicsit kevés a téma, illetve inkább a hangulat. Két szám, két hangulat. Meg egy számot ugye el lehet húzni a végtelenségig, ilyen kaliberű zenészekkel, egy ennyire együtt lélegző, lüktető zenekarban, csak sör és fű mennyiségi kérdése, hogy milyen hosszú lesz az adott szám.
Nézzük a számokat, a két szám közül az első dal (Paranoia As Instinct) az izgalmasabb, itt több egyéniséget lehet észrevenni. Album intrónak tűnő dalkezdés. groovy bass, utána a "sugdolózás" teli találat, azt hittem végig így megy majd a dal, ének részről. Hátborzongató lenne, meg az is, de végig súgva még sejtelmesebb lenne.
A második dal (címadó - The Perfect Mood of Yesterday), sabbath sötétségű doomba burkolózik, a basszus az elején lehetne akár Hammond is. Kiemelendő itt az ének, mely mindkét dalban helyén van, de eltaláltak a több szólamos részek, persze lehet rajta majd a későbbiekben még finomítgatni. Lehet gyűjteni a TC ének fx-ekre, hogy élőben is megkaphassuk a felvételen megszokott effekteket. :)
Az EP hangzása nagyon el lett találva, tudom, hogy nem egyszerű megszólaltatni egy bandát/triót úgy, hogy nem duplázzák meg a gitárokat szétpanorámázva. Sajnálom, hogy a bandcamp oldalon nem olvastam infót arról, hol, ki és hogyan járult hozzá az audio összképhez, megérdemelt volna a hangmérnök (is) egy említést. Tényleg szép kerek, tömör és arányos a hangzás, nekem mondjuk az egyes dalban picit sok a gitár (néha a másodikban is, főleg a stereo delayeknél). Mondom ezt úgy, hogy ha játszunk a haverjaimmal az esetek 99%-ban nekem a gitár jut. A dob - gondolom itthon vették fel - meglepően jól szól, nem házistúdió beteg.
Szóval szimpatikus a zene, szimpatikus a zenekar és ha a srácok is kicsit többre tartják majd a velük egy érában, stílusban, helyen létező zenekarokat, bloggereket, 'mozgalmi' figurákat, arcokat, akkor ők is szimpatikusak lesznek. Mindenesetre irány külföld, mert megállja a helyét a világban.
Get stoned, Rokk on!
Ingyen letölthető: