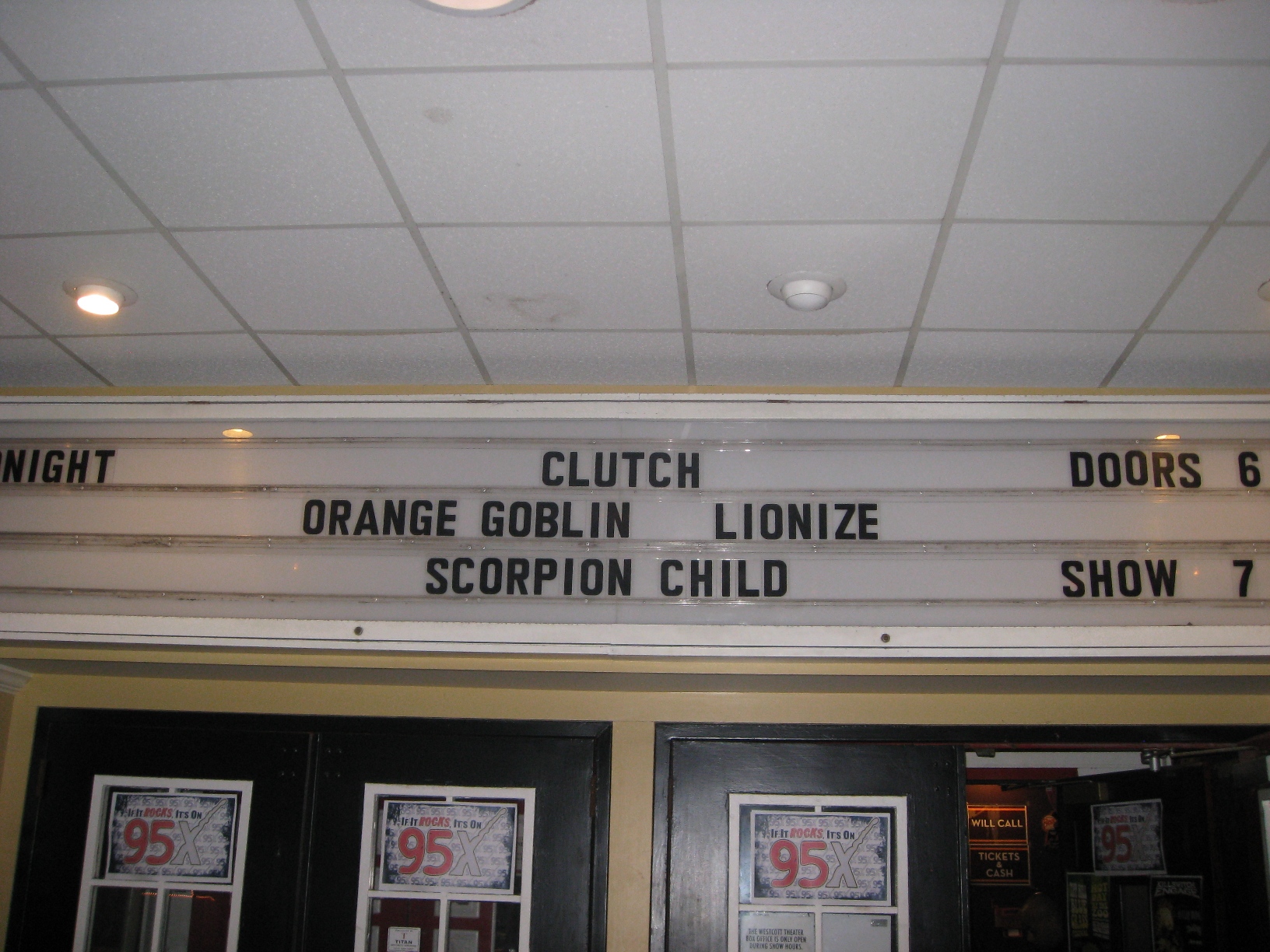 Letettem a lantot este hat körül, és húztam egy kövéret az ape-hangeren, hogy ha a 630-as ajtónyitást nem is, de a 7 órás sókezdést mindenképpen elérjem.
A Kyng helyére beugró Scoprion Child robbant be először aznap este, bár a srácok küllemben hozták az oldschool stílust, egytől-egyig úgy néztek ki, mintha valami 70es évekbeli Trapper farmer reklámból maradtak volna itt, azért a belbecs elég vérszegény volt. A Polygon of Eyes számmal nyitották és zárták a sót, ami nem egy rossz nóta hozza a szokásos paneleket, bár nem ragadt a fülemben. Így a bárpult felé fordulva a " Nem is rossz! mondjuk nem is jó" felkiálltással rendeltem ki a következő söröket. Azért remélem felfejlődnek, jó lesz ez, csak ez még így nagyon halvány. A Kyng-et sajnálom, a Falling Down-t most sem hallhattam meg, ehh.
Az este meglepetése nekem - mint a stoner határmezsgyéjére néha betévedő fél-amatőrnek- a Lionize volt. Nagyon kapós groove-ot tolnak a fiúk, akire mindenki akaratlanul rázza a hátsót. A Lionize recept hallatlanul egyszerű, végy egy jó szerecsen dobost, plusz adj hozzá egy favágó-kinézetű basszerarcot, aki néha mintha négy kézzel morzsolná a négyhúrost. Kell még egy karoszszérialakatos-forma énekes-gitáros, aki a mélytől magasig bárhol pontosan szólal meg, no meg egy jó alternatív billentyűs. Aki fogékony a reggae életérzésre, mindenképpen adjon nekik esélyt, kezdve mondjuk a Dr. Livingstone videóval (A Clutch hűtőtapi priceless!). Ha ez sem győz meg, ne is erőltesd tovább.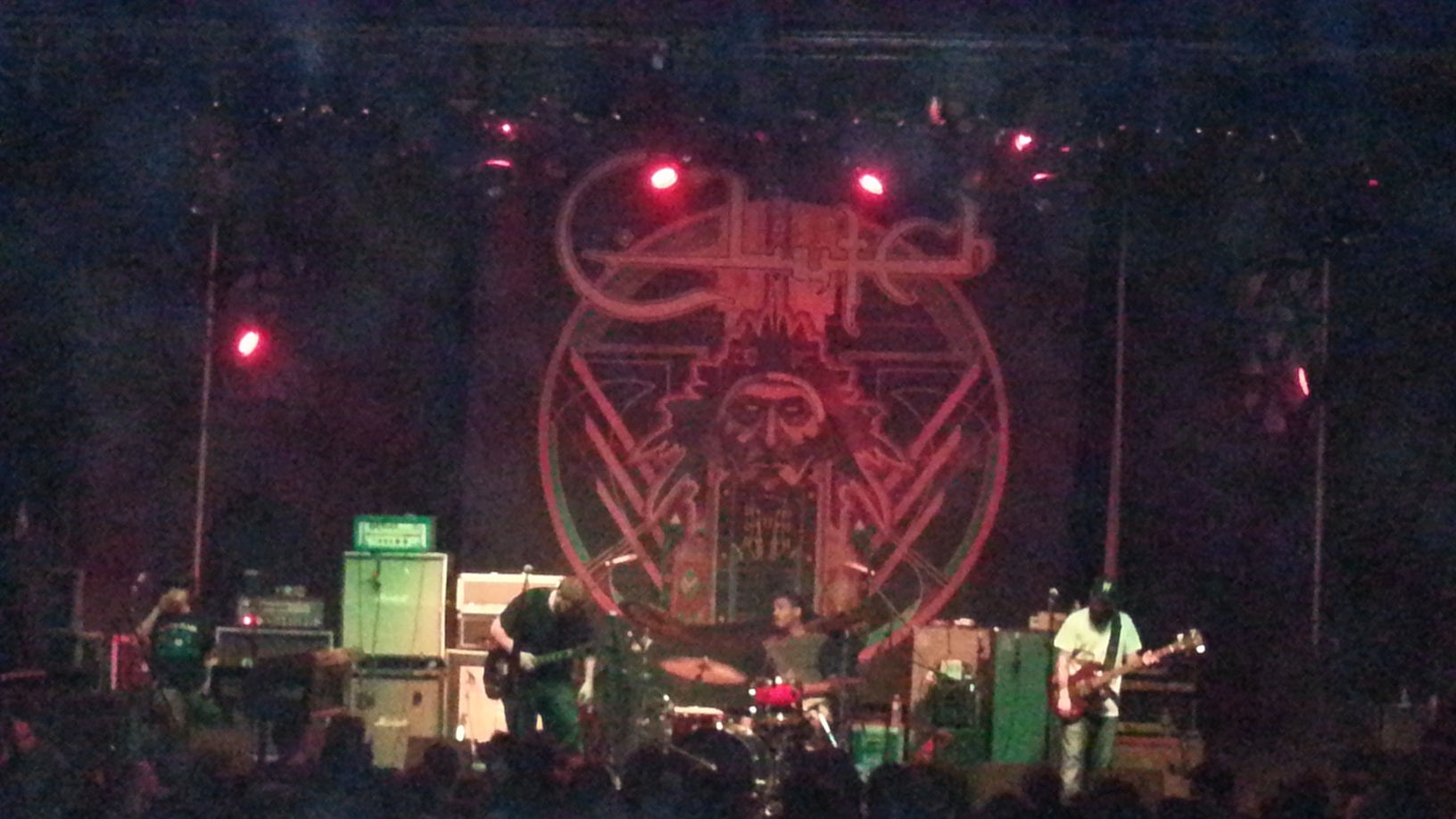 Az Orange Goblin színvonalban nem okozott csalódást, hozták a szokásos vérprofizmust. Ben Ward eszméletlenül szuggesztív, nagyon tudja húzni a közönséget, és mikor széttárja péklapát karjait, mintha az egész csarnokot egyetlen mozdulattal fel tudná rázni. Ideális együttműködés ez a Clutch-al, passzolnak egymáshoz mint a mogyoróvaj a lekvárhoz, simán bedolgozzák nekik a hangulatot, és a stonerre fogékony közönség egyszerre láthatja őket egyidőben. Mivel nekem a tavalyi Euology of the Damned máig érthetetlen okok miatt kimaradt, a koncert fele gyakorlatilag meglepetésekkel volt tele.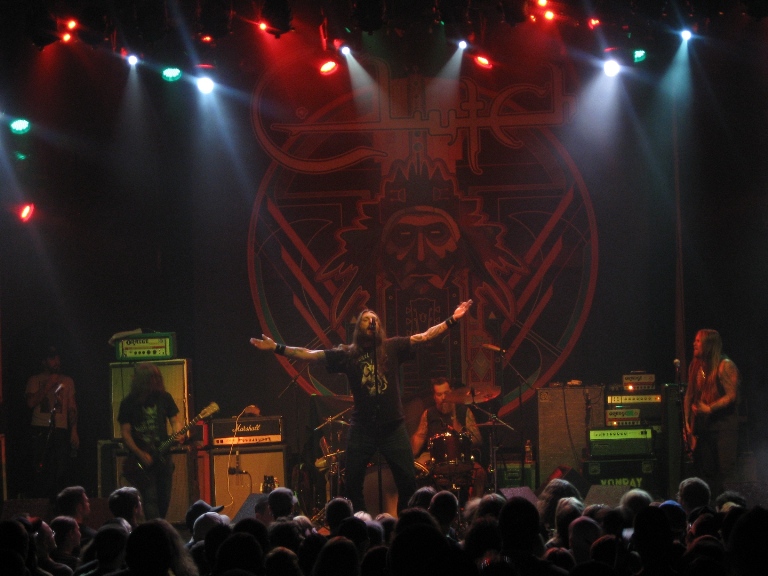 A Red Tide Rising nyitány gyorsan át is kapcsolt jamaicai happy üzemmódból a kárhozottak dicshimnuszára. Az édeskés Bud-light szagú izzadtságpára, a por, és a vízszintesen repkedő emberek együttese hamar jelezte, hogy immáron más fordulatszámon pörög a buli. Az Acid Trial csak olaj volt a tűzre, biztos voltam benne, hogy leszakad a padló, és egy szinttel lejjebb folytatjuk. Eszméletlenül remegtek még a falak is, az alulról húzött riffekre, mindenki együtt dobbantott. Meglepően rövid volt a koncert, még visszatapssal együtt is alig felóra senkinek nem volt elég, de ha három zenekar vezeti fel a fő attrakciót akkor tényleg nincs idő maszatolni. Az átszerelés alatt kimentünk a főbejárathoz, hogy elszivjak egy kis friss levegőt. Itt végre sikerült egy ölelkezős facebook-gyanús képet lőnöm Ben Warddal és Chris Turnerrel. Szerintem elég fasza lett: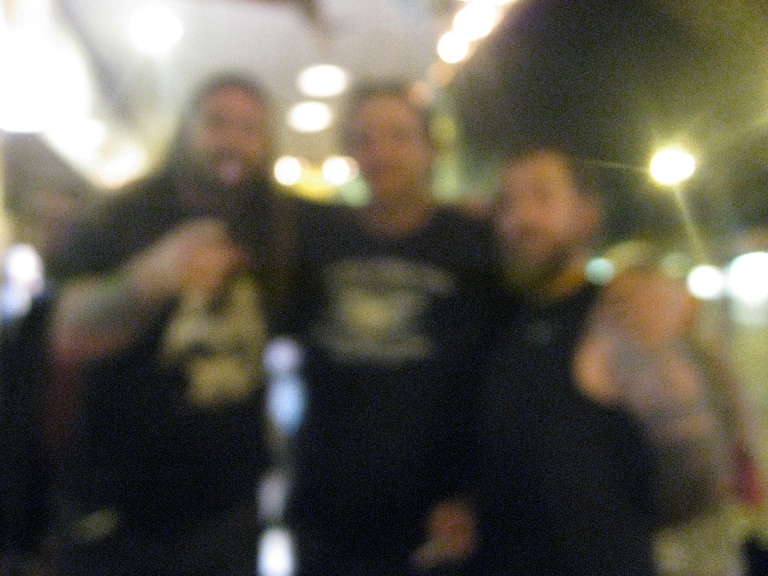 Visszapaszíroztuk magunkat az előadóterembe, ahol az egész este alatt a háttérben figyelő zord indián törzsfőnök már jelezte, hogy az Earth Rocker album fontos szerepet kap a mai darálásban. Az albummal most ismerkedők kedvéért komplett panelek hangzottak el a koncerten az albumról. Earth Rocker a Crucial Velocityvel, a "The Face, Book Saddle and Go és a Cyborg Bettle" csomag után a "The Wolf Man Kindly Requests..." méltóképpen zárta a koncertet, akárcsak az albumot. Az Earth Rocker szerintem jól sikerült, nagyzolásnak tünete sem volt, egyszerű bemelegítő dal, pont ideális egy koncert elejére. A máig vitatott Buuuuuuaaaaaah sort nem kell komolyan venni, a látottak alapján az első három sor hullámzására szólít fel. Nincs értelme. "Ne keresd, ne bonyolítsd". A többi pedig csak szimpla párhuzam a nyámnyila popperek és a szénnévart kőkemény stoner arcok között, igazi példa erre az " I don't need your sticky laminate-I don't need your VIP-I don't need your validation-'Cause I wear mine on my sleeve" már-már költői szóképe. Élőben először hallottam a The Regulatort, igazi kincs ez a szám, a szívem is összeszorult. Neil Fallon zseniálisan adta elő, nagyon ráéreztek, mikor kellett egy kis szusszanási szünet. Valami lelkes munkatárs négy órája már fel is nyomta, íme:


A koncert felénél jöttem rá, hogy nagyon nagyon megöregedtem, pár éve hegyalján még 5 nap hajrázás meg se kottyant, most meg már 6 óra csizmában ácsorgás után leszakad a derekam. Mpfha. Hittem ezt egészen addig amíg a Texan Book of the Dead fel nem csendült. Egy emberként ugrott fel a tömeg, amiből kettő én voltam, és be kell valljam öreg rókaként a moshpitbe keveredve azért jól jöttek a régi reflexek.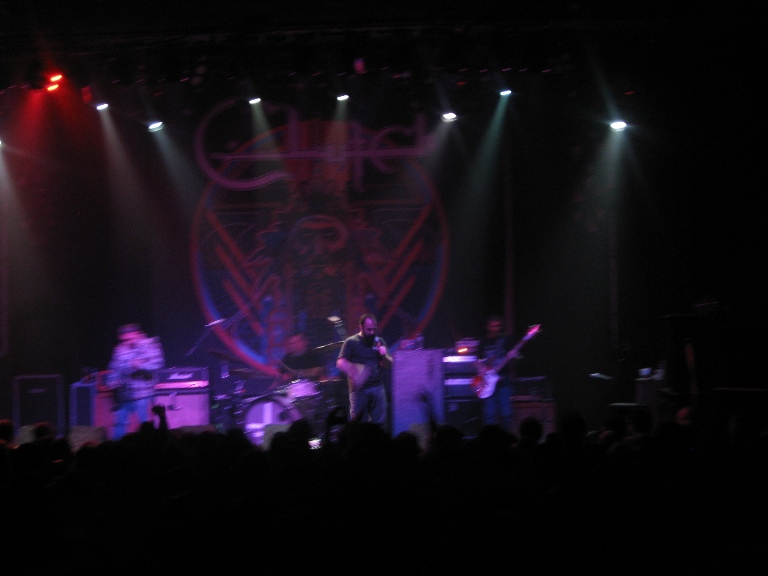 Amikor azt hittük nincs tovább, akkor értük el a csúcspontot az arcunkba tolt "The Face" opusszal. Akkor, ott élőben tudtuk meg, hogy érdemes volt négy évet várni erre az albumra, és hogy miért vált kult-bandává ez az együttes. Nálam ez egyértelműen kimeríti a tökéletes stoner nóta fogalmát akárcsak a záróakkord The Wolf Man Kindly Requests... amely végig ott zakatolt a fülemben amíg hazáig csavartam a gázt. Így kell ezt!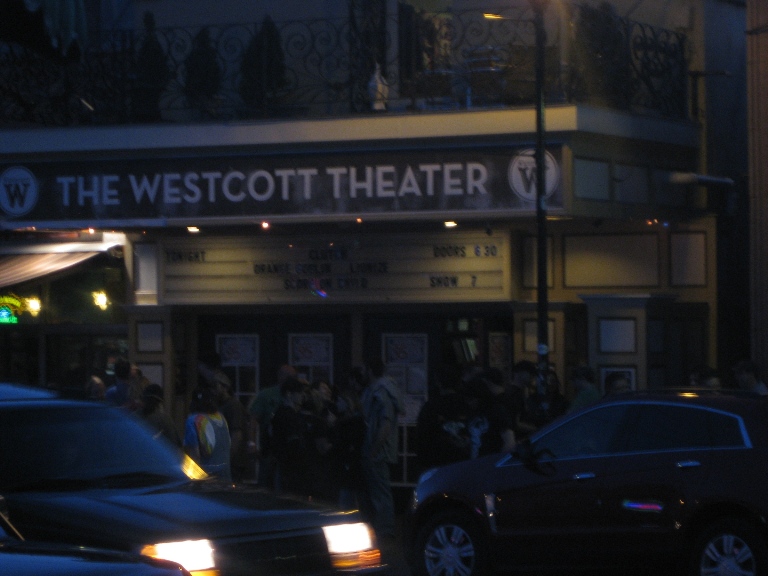 Clutch
The Mob Goes Wild
Pure Rock Fury
Earth Rocker
Crucial Velocity
Profits of Doom
The Regulator
Burning Beard
The Dragonfly
Cypress Grove
Texan Book of the Dead
Escape from the Prison Planet
The Face
Book Saddle & Go
Cyborg Bette
Electric Worry
One Eye Dollar

A Shogun Named Marcus
The Wolf Man Kindly Requests...