Nagy örömmel mutatok be egy új arcot, Molyembert, aki reméljük a jövőben mind többet tud majd nekünk segíteni, és tovább öregbíti a blogunk hírnevét, fogadjuk szeretettel:
Attack of The Clones Black Moth
Ha egy pillanatig is kételkedtél abban, hogy a női énekeseknek legalább annyi szerepük van a stoner zenében, mint a férfiaknak, itt az ideje, hogy lelki önvizsgálatot tarts. Bevallom, én is átestem rajta, mert nem kis elfogultsággal álltam neki a Weeds-i leeds-i születésű Black Moth megismerésének. Nem szoktam, de mielőtt belehallgattam volna megnéztem a banda facebook oldalát. Rég nevettem ilyen jókat, az amúgy aranyos arcú énekes csaj gyermeteg-punk ruházata, a fél-profi dizájn, és az együttes virtuális selfjének ad hoc jellege egyaránt okozhat kellemes perceket. Ráadásul a nevükről nekem mindig az az idétlen molyemberes film ugrott be, így hát hullámokban tört rám a görcsös nevetés. Eddig nem rossz. Most pedig jöjjön a Black Moth, The Killing Jar album!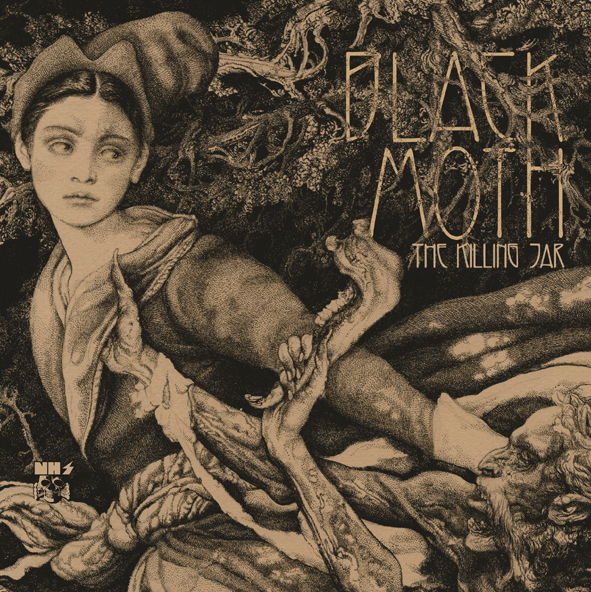 A The Articulate Dead című track első másodperceiben az van, hogy nincs semmi. Úgy értem nincs bevezető, néhány lassabb traktus. Ízlésesen torzított basszust és pergős dobtémát kapunk. A gitárt is kellően adagolják, fuzzoidok szeretni fogják. Aztán Harriet Beavan hangja, és én elhiszem, hogy én is szeretni fogom ezt az számot. A zene nincs túlbonyolítva, van mindenből egy kevés, de a jól időzített váltások sem hagynak unatkozni. Az egyébként klipes, érdekes című Blackbirds Fall second track olyan groove-os témát dob az arcodba, hogy eszedbe jut egy dögösebb hangcuccot venni, de azonnal. Mellékes, hogy a szám egy részében kísértetiesen eltűnő-előbukkanó ének (effekt akar lenni) nem kicsit ront az összképen. Megbocsátom neki, mert ez egy baszottjó dal. A szerzeménynek egy valós esemény adott ihletet, nevezetesen amikor valahol Amerikában több mint 5000 madár halálozott el, és hullott alá eső formájában.
Biztató kilátások, vajon az album többi részén sötétebb helyekre repdesünk? A sejtésem beigazolódott. Nem doom, az idő nagy részében igazából csak a félhomályban járunk, az igazi, méy sötétség helyett. Hangulatos, kicsit keleties hangzás, felhívás egy időutazásra. Ez itt a Mothic Horror kérem szépen. A Spit Out Your Teeth punkos bevezető után, kellemes basszustémával kísért néhol humoros szövegű szerzemény. Okozhat meglepetéseket, a srácok jól használják a hardwert. A következő, The Plague of Our Age című szám néhol erőltetett éneke visszavesz a lendületből, de ne gondold hogy átugrod. Addig is lássuk, kinek, kiknek köszönhetjük a Black Moth offenzívát.
A 2010-es alapítású, öt tagú formációt a Hew Heavy Sounds propagálja. Náluk jelent meg debütáló albumuk, a The Killing Jar (Jar Jar Binks ugrott be! Légy átkozott Lucas!), 2012-ben. Hála a Molyembereknek nem volt világvége, így tudjuk, hogy a banda serényen koncertezik, posztol, jól elvan azóta is.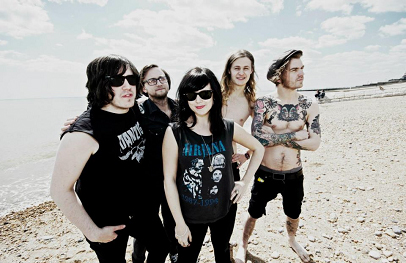 Az album utolsó harmada nem hagyja eltűnni az eddig átültetett attitűdöket. Említésre méltó a Plastic Blaize elszállós gitártémája, és a last but one Land of The Sky, mely kétségkívül az album egyik erős szerzeménye. Nem azért, mert olyan jó dal lenne, hanem csak mert jó érzéseket hagy benned hallgatás után. Már aki erre vágyik. Lehet, hogy ettől lesz jó dal.
Nos, mit lehet összegzésképpen elmondani a Fekete Éjjeli Lepkékről? Változatos, igazi stoner zenét kapunk, sokszor valami mondanivalóval is társulva. Emellett az együttes dizájnja is megszerethető, második blikkre, az album után, sokkal szimpatikusabb arcoknak tűntek. Persze ettől lehetnek oltári nagy parasztok, de a The Killing Jar-t nagyon eltalálták, én várom a folytatást.
Molyember
Honlap: http://www.themothpit.co.uk/
letöltés a kép alatt, mint a régi szép időkben!